"Ranking Roger" of the bands The Beat (a.k.a. The English Beat for U.S. audiences) and General Public passed away a week ago at the age of 56, after a stroke and a battle with brain tumors and lung cancer.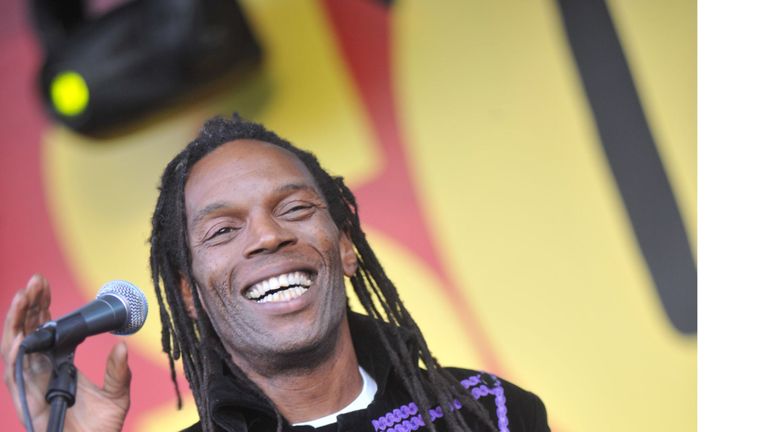 Ranking Roger (real name Roger Charlery) started out as a London punk rocker before teaming up with Dave Wakeling in The Beat, part of the Two Tone "second wave" of bands that fused ska with punk rock, new wave, reggae and pop music. After The Beat broke up, Roger and Dave formed General Public, while two other Beat members teamed up with Roland Gift to form Fine Young Cannibals. Roger later formed The New Beat and performed with his son, and later still The Beat featuring Ranking Roger.
It's worth noting that Ranking Roger was black and Dave Wakeling was white. Well before Michael Jackson and Paul McCartney were teaming up for that schmaltzy "Ebony and Ivory" tune, the Beat were uniting fans of all colors.
"When the Beat were originally going 'round," he said, "our audiences were so mixed — black, white and Indian, young people and older heads. It was brilliant, and I think we have kind of achieved that today. It is a bit different, obviously, but it is a very friendly crowd and everyone walks out sweating and happy, and I tell myself that's the most I could ask for."

Source: New York Times
They also tackled political topics in their songs, most famously in "Stand Down Margaret"… a comeuppance to Margaret Thatcher with the last lines of "love and unity, the only way."
From the NYT obit: The Beat was born in part out of frustration with the conservative turn in England's politics.
"To the English Beat," Robert Palmer wrote in reviewing the group's second album, "Wha'ppen?," in The Times, "unemployment, ecology and the antinuclear movement are not separate issues; they are interrelated."
"Anyone who would like to understand more about the attitudes underlying Britain's inner-city rioting," he added, "would do well to start here."
This nine-minute interview is a great glimpse into Roger's humble demeanor and his dedicated approach to performing.
Even in his 50s, he was still giving it his all.
That sort of free-spirited yet socially conscious attitude toward life ranks high in my book.