This past weekend, Mrs. Dubbatrubba and I joined 23 other old-timers for a weekend stay at Daniel Boone National Forest in Kentucky.
"The Daniel Boone National Forest embraces some of the most rugged terrain west of the Appalachian Mountains. Steep forested slopes, sandstone cliffs and narrow ravines characterize the land."
It's only a couple of hours from Cincinnati, but it's light years away from the rat race. A great place to unplug, unwind, and reconnect with nature. A New Year's Restitution, if you will.
The older brother and sister-in-law of our neighbor are the instigators, they've been gathering the ol' gang down there every January for years. Last year, thanks to our neighbors, we were added to the crew.
Happy hour and a leisurely and lovely potluck dinner Friday evening. Long hike (with an on-trail lunch break) on Saturday, followed by another happy hour and potluck meal, then carousing until the wee hours (which for our age bracket means 10:30). A shorter hike Sunday morning, then back to the reality of jobs and kids (or grandkids in some cases) and bill payments and oil changes and the other quotidian duties that can fill your calendar but not fill your heart.
Saturday's hike was challenging… quite a few narrow ledges and snow-covered 2×4 board bridges, with a few icy spots throw in for good measure. But the sexagenarians (and one septuagenarian) were up to the task. And the scenery payoff was worth it.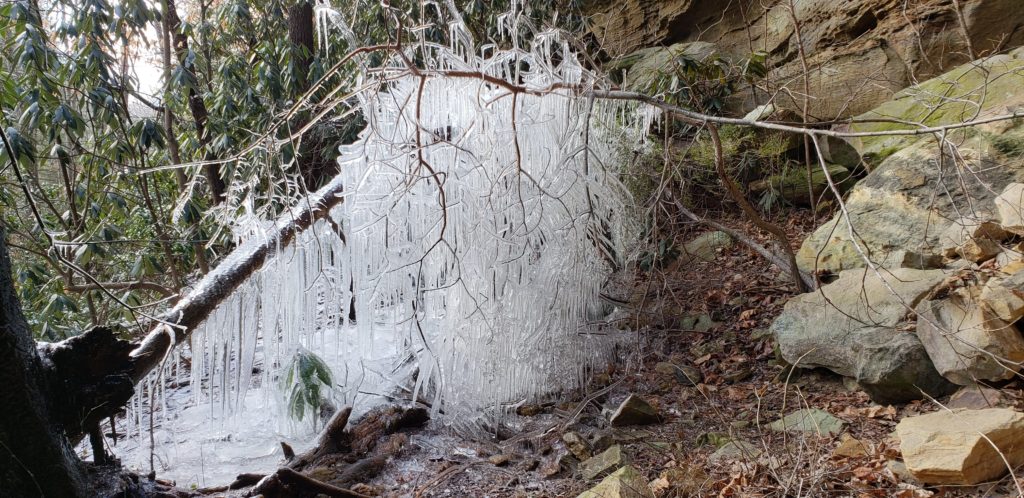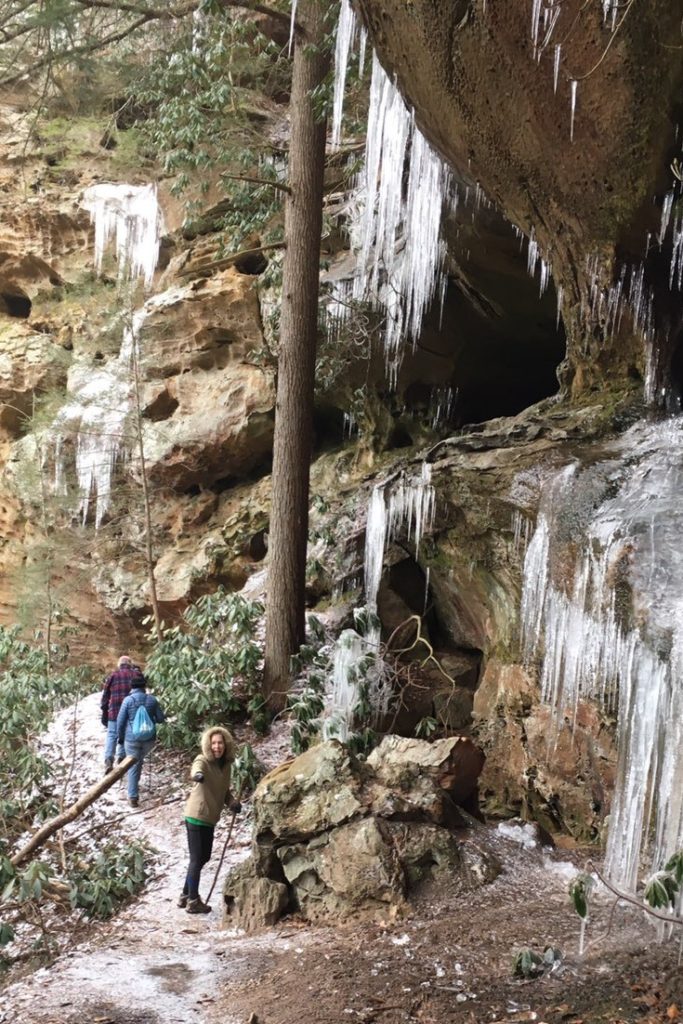 You can keep your Ritz Carlton and your high-society parties, I'll take a rustic cabin in the woods and some down-to-earth friends any day.